Karl Urban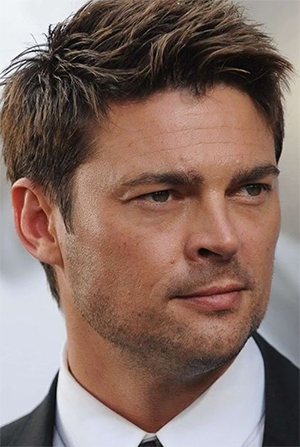 Urban's first Hollywood role was in the 2002 horror film
Ghost Ship
. Since then, he has worked on many high-profile movies, including the second and third installments of the
The Lord of the Rings
trilogy (
The Two Towers
and
The Return of the King
),
The Bourne Supremacy
(as Russian Federal Security Service agent Kirill),
The Chronicles of Riddick
,
Star Trek
, and
Doom
.
The Hollywood Reporter speculated that Urban was one of several actors being considered for the part of British secret service agent 007 in
Casino Royale
, directed by fellow New Zealander Martin Campbell. However he was unable to make the audition because of filming commitments. The role eventually went to Daniel Craig.
Urban played John "Reaper" Grimm in Universal Pictures'
Doom
(based on the first-person shooter video game
Doom
), which was released on 21 October 2005. In 2007, he starred in the Viking adventure
Pathfinder
. A longtime fan of Westerns, Urban appeared as Woodrow Call in
Comanche Moon
, the CBS miniseries prequel to
Lonesome Dove
, in January 2008.
In 2009, he played Dr. Leonard "Bones" McCoy, a role famously originated by DeForest Kelley, in the eleventh
Star Trek
film. A fan of the
Star Trek
franchise since childhood, Urban actively pursued a role in the film. His performance was widely embraced by the
Star Trek
fan community for its faithfulness to the spirit of Kelley's McCoy.
In 2009, Urban appeared as himself in the documentary film
Reclaiming the Blade
, discussing his sword-wielding experience in films such as
The Lord of the Rings
.
Urban next appeared as CIA agent William Cooper in Red, adapted from the DC Comics graphic novel of the same name and co-starring Bruce Willis and Helen Mirren. He portrayed Black Hat, a villainous priest-turned-vampire, in the film adaption of the Korean manhwa
Priest
, released in 3-D in 2011.
In 2012, Urban starred as law-enforcing comic book hero Judge Dredd in the film
Dredd
. In an interview with Shave Magazine, Urban described it as a "high-octane, action-fueled film... about the day in the life of Dredd." The film was directed by Pete Travis, with a script by Alex Garland. Though it underperformed at the box office,
Dredd
was well received by critics.
He reprised his role of "Bones" McCoy in the sequel to
Star Trek
,
Star Trek Into Darkness
, which was released 15 May 2013.
Urban will next be seen in the ensemble thriller
The Loft
, a remake of the Belgian film of the same name. Filmed in New Orleans and Belgium, it is helmed by the director of the 2008 original, Erik Van Looy.
In 2013, Urban stars as Detective John Kennex in
Almost Human
the new TV series created by J. H. Wyman. The series is set 35 years into the future when humans in the L.A.P.D. are paired up with lifelike androids, as a detective who has a dislike for robots ends up being teamed up with one with emotional feelings.