Matt Fraction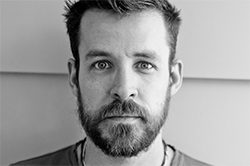 Fraction started creating comics with smaller publishers including AiT/Planet Lar and IDW Publishing. He became known early in his career for his creator-owned work on
The Five Fists of Science
and
Casanova
, before taking on a number of increasingly high-profile assignments for Marvel Comics.
Fraction teamed with Ed Brubaker for an acclaimed run on Marvel's
The Immortal Iron Fist
. The pair re-teamed on
Uncanny X-Men
for a short time, after which Fraction wrote the series solo until leaving it in 2011. He wrote
The Mighty Thor
and
The Invincible Iron Man
, the latter of which led to his consulting work on the set of the film
Iron Man 2
and writing the
Iron Man 2
video game that tied into that film sequel.
In 2011 Fraction wrote the event limited series
Fear Itself
, which was the central book of the crossover storyline of the same name. In December 2011 he revived the
Defenders
series with artist Terry Dodson and in August 2012 he started a new
Hawkeye
series with David Aja. As part of Marvel NOW!,
Fantastic Four
was relaunched in November 2012 with the creative team of Fraction and artist Mark Bagley and its spinoff series
FF
being produced by Fraction and artist Mike Allred. Fraction left both series due to other work commitments.
In February 2013, he was named on IGN's list of "The Best Tweeters in Comics," which described him as "the premier comics Twitter personality."
In 2013, Fraction co-created with Chip Zdarsky the series
Sex Criminals
for Image Comics. In 2014, he co-created with Christian Ward the series
ODY-C
, a science-fiction retelling of the
Odyssey
with the characters genders changed to women.