Charles Martinet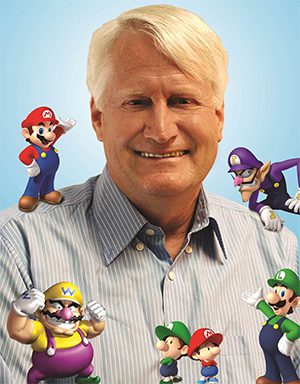 Archived Bio. Not part of the current Guest list.
Working for Nintendo since 1994, Charles Martinet started voicing Mario at video game trade shows in which attendees would walk up to a TV screen displaying a 3-D Mario head that moved around the screen and talked. This system was called Mario in Real-Time or "MIRT". At first Martinet planned to voice Mario with a stereotypical Italian American with a deep, raspy voice (which is how Mario sounded in the
Super Mario Bros. Super Show, Super Mario Bros. 3
, and
Super Mario World
cartoons). He then thought to himself that it would be too harsh for children to hear, so he made it more soft-hearted and friendly, resulting in what Mario's voice is today.
Martinet's video game voice over debut was as Mario in the 1995 Windows release of Interplay's game
Mario's FUNdamentals
. However, most were first exposed to Mario's voice in the landmark 1996 game
Super Mario 64
. He has voiced Mario, Luigi, Wario, Waluigi, Toadsworth, Metal Mario, Shadow Mario, Donkey Kong, MC Ballyhoo, Mini-Mario Toy, Baby Mario, Baby Luigi, and Baby Wario in most games wherein these characters speak. He also voiced the enemies Wart, Mouser, Tryclyde, and Clawgrip in Super Mario Advance. His voice work appears in the English and Japanese-language versions of the games, although his work is always in English (regardless of the Italian references whenever he voices Mario and related characters).
Martinet provided voice over acting for the boxers and the announcer in the Super NES title
Super Punch-Out!!
. He voiced the character Vigoro in Sega's Dreamcast and Nintendo GameCube role-playing video game,
Skies of Arcadia
. He did the voice of Homunculus in the Konami PlayStation 2, Xbox, and Windows game
Shadow of Destiny
, and provided voices for Reader Rabbit and
The ClueFinders
games.
Other than the Mario series, Charles has also done work for the video game
Cel Damage
as the voice of Fowl Mouth, as well as the primary voice work in several educational game series such as
LeapFrog
. He also voiced the dragon Paarthurnax in the 2011 video game
The Elder Scrolls V: Skyrim
, and narrated the cutscenes and menus for the 2013 video game
Bit.Trip Presents Runner 2: Future Legend of Rhythm Alien