Clare Kramer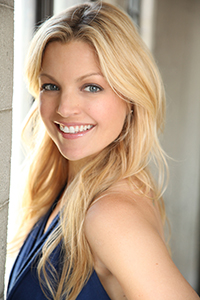 Archived Bio. Not part of the current Guest list.
Clare Kramer is an award-winning actress, best known for her portrayal of Glory on the hit television show
Buffy the Vampire Slayer
, and starring opposite Kirstin Dunst in the no-holds-barred cheerleading comedy
Bring It On
.
Early credits include
The Rules of Attraction
,
Sabrina the Teenage Witch
,
House M.D.
,
The Skulls
,
Endure
, and many more.
Current film projects include
The Griddle House
, starring Clare, Charisma Carpenter and Alex Shaffer, and The Lost Tree with Michael Madson and Lacey Chabert. Both films are set for release in 2015.
Behind the camera, Clare's production company Defiance Entertainment co-­produced the award-winning documentary
Tyson
that received accolades at the Cannes Film Festival.
In 2012 Clare launched the entertainment website and pop culture phenom GeekNation.com. GeekNation is an online television network offering one-stop-shopping for news, opinion, lifestyle and community with interests in entertainment, television, movies, sports, technology, events and all things pop culture. The collaboration of professionals in the industry, GeekNation is housed in a 5,000 square foot sound stage in Los Angeles where all content is generated. The site, and its social media outlets have a monthly outreach of over 8,000,000 users.
In addition to running GeekNation, Clare's
Five by Five
podcast, featuring such guests such as Julie Benz, John DiMaggio, Jane Espenson and Matt Walsh is recorded in-house, and can be heard on over 30 international airlines.
Clare has an extensive hosting background, having been featured as a correspondent by several media outlets including CNN, Access Hollywood, Huffington Post and E!
Clare is the go-to figure for discussing the sensational "geek" market in the industry. With her extensive film and television knowledge, as well as her entrepreneurial success, Clare is a dynamic and interesting addition to any opinion line-up.
In addition to correspondence, Clare has exclusively interview many A-listers including Chris Hemsworth, Stan Lee, Ron Pearlman, William Shattner as well as the casts of
Twilight
,
Defiance
,
Being Human
, and many more.
In 2014, Clare was presented with a Saturn Award for her role in Big Ass Spider, opposite Greg Grunberg and Ray Wise. Earlier in the year she was awarded a Visionary Award by the Pasadena International Film Festival for her contributions to the industry. Over the years Clare has been recognized with numerous other honors include an MTV Award.
Clare has also been turned into several action figures, trading cards, lunch boxes, and even been featured as a Jeopardy question as well as a question for Trivial Pursuit.
But perhaps what Clare considers her greatest accomplishments are her four children.