Michael Dorn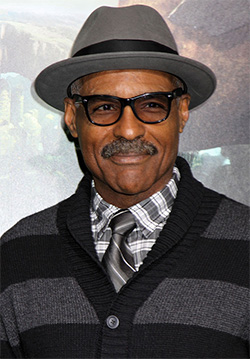 Archived Bio. Not part of the current Guest list.
Born in Texas and raised in Pasadena, California, he studied radio/television production at Pasadena City College and took his turn in front of the student cameras. When he left school his interests settled in music and it was there that he pursued his early professional career as a performer.
He moved to San Francisco in 1973, then back to Los Angeles in 1976, making his living during that time playing and singing in several rock bands. Then in 1977 Michael landed a small part on
The Mary Tyler Moore Show
and thought his moment had arrived. Actually, his moment was still a few years away, but it was certainly a start.
Michael Dorn received much of his on-the-job training as a semi-regular on the daytime drama
Days of Our Lives
. In the prime-time hours, Dorn was seen as Officer Turner during the final two seasons (1980-1982) of the weekly cop series
CHiPs
and guest-starred on many more primetime series including
Knots Landing
and
Falcon Crest
. He went on to a flurry of supporting-cast activity in such theatrical features as
The Jagged Edge
(1985). Then, in 1987, Michael Dorn donned mounds of facial makeup for what was to be his signature role: the U.S.S. Enterprise's Klingon officer Lt. Worf on
Star Trek: The Next Generation
(1987-1994). Michael reprised his role of Worf on
Star Trek: Deep Space Nine
(1995-1999).He also contributed behind the scenes, directing several episodes of
DS9
.
Since the end of
DS9
, Dorn has continued to act in a variety of projects, and is quite in demand for his voice work — he's provided voices for a plethora of animated series, including
Spider-Man
,
Kim Possible
and
Gargoyles
(with fellow
Trek
thespian Marina Sirtis). He also wrote, directed and starred in a TV sitcom pilot,
Through the Fire
, and directed an episode of
Star Trek: Enterprise
, 'Two Days and Two Nights.'
Besides the Star Trek films, Dorn has been seen in theaters in such independent features as Timemaster in 1995 and Shadow Hours in 2000. He played the Sandman in Disney's The Santa Clause 2 and The Santa Clause 3: The Escape Clause. On the smaller screen he starred in the 1995 Showtime tele-film Amanda and the Alien, and also did a star turn in the Showtime series The Outer Limits, and acted as host of the Discovery Channel's popular series The World of Wonder.
In what free time he has, Dorn enjoys flying in his single-seat military training jet, an F-86. He flies to air shows around the country and uses his plane as the ultimate private getaway.