Stan Lee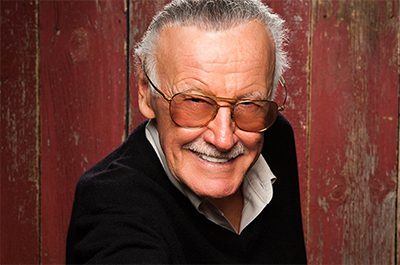 Archived Bio. Not part of the current Guest list.
Early in his career, Stan Lee became an assistant at the new Timely Comics division of pulp magazine and comic-book publisher Martin Goodman's company. Timely, by the 1960s, would evolve into Marvel Comics. He graduated from writing filler to actual comics with a backup feature,
Headline' Hunter, Foreign Correspondent
, two issues later. Lee's first superhero co-creation was the Destroyer, in
Mystic Comics #6
(August 1941). Other characters he created during this period fans and historians call the Golden Age of comics include Jack Frost, debuting in
USA Comics #1
(August 1941), and Father Time, debuting in
Captain America Comics #6
(August 1941).
When Simon and his creative partner Jack Kirby left late in 1941, following a dispute with Goodman, the publisher installed Lee, just under 19 years old, as interim editor. The youngster showed a knack for the business that led him to remain as the comic-book division's editor-in-chief, as well as art director for much of that time, until 1972, when he would succeed Goodman as publisher.
In the late 1950s, DC Comics editor Julius Schwartz revived the superhero archetype and experienced a significant success with its updated version of the Flash, and later with super-team the
Justice League of America
. In response, publisher Martin Goodman assigned Lee to create a new superhero team.
The first superhero group Lee and artist Jack Kirby created was the
Fantastic Four
. The team's immediate popularity led Lee and Marvel's illustrators to produce a cavalcade of new titles. With Kirby primarily, Lee created the
Hulk, Iron Man, Thor,
and the
X-Men
; with Bill Everett,
Daredevil
; and with Steve Ditko,
Doctor Strange,
and Marvel's most successful character,
Spider-Man
.
Throughout the 1960s, Lee scripted, art-directed, and edited most of Marvel's series, moderated the letters pages, wrote a monthly column called
Stan's Soapbox
, and wrote endless promotional copy, often signing off with his trademark phrase "Excelsior!" (which is also the New York state motto).
In the 2000s, Lee did his first work for DC Comics, launching the
Just Imagine
... series, in which Lee reimagined the DC superheroes
Superman, Batman, Wonder Woman, Green Lantern,
and the
Flash
.
In 2005, Lee, Gill Champion and Arthur Lieberman formed POW! (Purveyors of Wonder) Entertainment to develop film, television and video game properties. POW! president and CEO Champion said in 2005 that Lee was creating a new superhero,
Foreverman
, for a Paramount Pictures movie, in tandem with producer Robert Evans and Idiom Films, with Peter Briggs hired to collaborate with Lee on the screenplay.
In 2006, Marvel commemorated Lee's 65 years with the company by publishing a series of one-shot comics starring Lee himself meeting and interacting with many of his co-creations, including
Spider-Man, Doctor Strange,
the
Thing, Silver Surfer,
and
Doctor Doom
. These comics also featured short pieces by such comics creators as Joss Whedon and Fred Hembeck, as well as reprints of classic Lee-written adventures.
In 2007, POW! started a series of direct-to-DVD animated films under the Stan Lee Presents banner. Each film focuses on a new superhero, created by Stan Lee for the series. The first two releases were
Mosaic
and
The Condor
. In June of that year, Walt Disney Studios entered into an exclusive multi-year first-look deal with POW! Entertainment. In 2016, Lee introduced his digital graphic novel Stan Lee's
God Woke
, with text originally written as a poem he presented at Carnegie Hall in 1972. The print-book version won the 2017 Independent Publisher Book Awards' Outstanding Books of the Year Independent Voice Award.
Stan Lee will be the grand marshall in the 2017 Dragon Con parade.