Ciruelo Cabral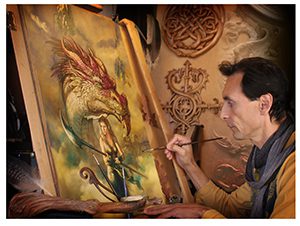 Ciruelo was born in Buenos Aires, Argentina on July 20, 1963. His formal art training was limited to a few courses in drawing and advertising design in the secondary school, after which, at the age of eighteen, he found work in an ad agency as an illustrator. Soon after he started his career as a freelance fantasy artist. In 1987 Ciruelo traveled to Europe and settled in Sitges, Barcelona, Spain. He then embarked on a search for publishers for his "fantasy worlds," eventually finding them in Spain, England, Germany and the United States. The prestigious publishing house Paper Tiger from London published his first art book in 1990 titled simply
Ciruelo
, which soon earned him international exposure. One year later
The Book of the Dragon
was also published by Paper Tiger and was then translated to ten languages. Since then Ciruelo's name was linked to Dragons all over the world. This book has been translated to ten languages so far being published in the United States by Sterling.
Among the several works he did for George Lucas there are the book covers for the trilogy
Chronicles of the Shadow War
and a painting for the book
Star Wars Visions
. Ciruelo has also created a number of rock album covers, Steve Vai's
The 7th Son
and
The Elusive Light and Sound
,
Adam & Eve
for the Swedish band The Flower Kings, and so on. Recently, he did the cover for the 10th Anniversary Edition of the book
Eragon
, by Christopher Paolini. Other clients include Wizards of the Coast (
Magic the Gathering
cards), TSR, Berkley, Tor, Warner, Ballantine,
Heavy Metal
magazine,
Playboy
magazine, etc. He has also worked with the famous author Alejandro Jodorowsky on a comic story published in France in 2006. Another branch of his art is Petropictos, the Art of Painting on Stone, a type of art that captures the public's attention in exhibitions that tour different countries. He created this technique in 1995 and consists in painting on stones in which he is able to discover three- dimensional images and create something halfway between a painting and a sculpture.
Ciruelo is always drawing, painting and writing with the idea of publishing books, his favorite format, with nine books published already. He lives with his wife and their children in Sitges, a quaint and magical town near Barcelona, on the shores of the Mediterranean Sea.