Peter Capaldi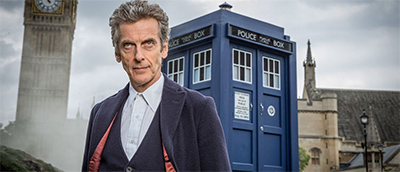 Peter Capaldi has appeared in over 40 films and television shows since his appearance as Danny Oldsen in
Local Hero
(1983). He played Beatles member and rock legend George Harrison in
John and Yoko: A Love Stor
y (1985), had roles in
The Lair of the White Worm
(1988) and
Dangerous Liaisons
(1988), and was featured as Ozzy in a 1985 episode of
Minder
. He voiced Chief Petty Officer Grieves in the BBC Radio Ministry of Defence comedy
Our Brave Boys
. Capaldi's first starring role on television was as Luke Wakefield, a closeted gay man who imagines he has witnessed a crime, in the BBC drama series
Mr Wakefield's Crusade
. He played fictional Songs of Praise producer Tristan Campbell in two episodes of the sitcom
The Vicar of Dibley
, and a transvestite in ITV's
Prime Suspect
. In Neil Gaiman's gothic fantasy
Neverwhere
, he portrayed the angel Islington. He appeared as Paddington Bear's neighbour Mr. Curry in the family comedy film
Paddington
and its sequel
Paddington 2
.
Prior to taking over the lead role in
Doctor Who
, Capaldi was best known for playing spin doctor Malcolm Tucker in the BBC sitcom
The Thick of It
, which he played from 2005 to 2012. Tucker is said to be largely, if loosely, based upon Tony Blair's right-hand man Alastair Campbell. A film spin-off from
The Thick of It
called
In the Loop
(in which Capaldi returned to the role of Tucker), was released in 2009.
The role of Tucker won Capaldi several awards. In 2006, 2008 and 2010 he was nominated for the BAFTA and RTS Best Comedy Actor Awards. He won the 2010 BAFTA Television Award for Male Performance in a Comedy Role. He also won the 2010 and 2012 British Comedy Award for Best TV Comedy Actor. He received another BAFTA Award nomination in 2013.
Capaldi was cast in 2013 as the Doctor in the BBC science-fiction series
Doctor Who
. His casting was announced on 4 August 2013 in a special BBC programme hosted by Zoë Ball. Capaldi first appeared as the Doctor in a cameo in the 50th anniversary special, "The Day of the Doctor", before appearing in the 2013 Christmas special, "The Time of the Doctor". A lifelong fan of the series, Capaldi had previously played Lobus Caecilius in the 2008 episode "The Fires of Pompeii" with the Tenth Doctor and his companion Donna Noble, as well as playing civil servant John Frobisher in the 2009 spin-off
Torchwood: Children of Earth
.
In 2014, Capaldi voiced the Doctor on the CBBC website's game,
The Doctor and the Dalek
and in 2015 voiced him in
Lego Dimensions
. In 2016, Capaldi reprised his role as the Twelfth Doctor in the
Doctor Who
spin-off programme,
Class
, written by young-adult author, Patrick Ness.
On 30 January 2017, in an interview on BBC Radio 2, Capaldi confirmed that the tenth series would be his last. His final episode was the 2017 Christmas special, "Twice Upon a Time", in which he was succeeded by Jodie Whittaker.
Capaldi will be appearing Saturday and Sunday only.