Lloyd Kaufman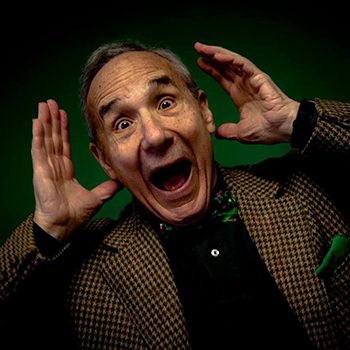 Archived Bio. Not part of the current Guest list.
"Lloyd Kaufman represents one of the true, great auteurs," so says Sam Grogg, dean of the American Film Institute's Center for Advanced Film and TV Studies, quoted in
Creative Screenwriting
magazine. "Without Lloyd Kaufman," writes film critic Michael H. Klienschrodt in the
New Orleans Times-Picayune
newspaper, "there probably never would have been
There's Something About Mary
, or
Deuce Bigalow, Male Gigolo.
" Whether or not he would accept the credit (or blame) for these raunchy, mainstream blockbusters, there can be no doubt that what Kaufman has achieved is enormous. In almost 30 years, Kaufman, along with partner Michael Herz, has built Troma Studios up from a young company struggling to find its voice in a field crowded with competitors to legendary status as a lone survivor, a bastion of true independence, and the world's greatest concentration of camp. He has accumulated a remarkable list of credits, as well as a more extraordinary list of debits to loan sharks and pawn shops across New York.
In the late 1960s, Kaufman was enrolled at Yale University, diligently working on a respectable degree in Chinese Studies. However, Kaufman was destined for other things. As he explains in his hit book
All I Need to Know About Filmmaking I Learned From the Toxic Avenger
(published by Penguin Putnam), "At Yale I was placed in a dormitory room with two film fanatics, and I knew everything had irrevocably changed." In fact, Kaufman was infected with a love of movies from which he never recovered.
In 1971, Kaufman met his future partner Michael Herz at Yale. The Troma Universe was born in 1974 with a series of highly original, sexy comedies such as
Squeeze Play!
,
Waitress!
, and other titles ending with an exclamation point. These movies, independent precursors to such later smash hits as
National Lampoon's Animal House
and
Porky's
, did well financially, although Kaufman continued to work on such outside productions as
Rocky
and
Saturday Night Fever
. Kaufman's relationship with mainstream Hollywood would not last long. "There were problems," Kaufman said, "as I always wanted to do things my own way and my employers insisted I do them the correct way."
Kaufman proved his former employers wrong with his 1984 breakthrough movie,
The Toxic Avenger
. This tale of a health club mop boy named Melvin who is transformed into a hideously deformed creature of superhuman size and strength struck a chord with audiences and critics alike, demonstrating that there was a large number of people who were interested in seeing things done Kaufman's way.
The Toxic Avenger
led to an animated spin-off series,
Toxic Crusaders
, several different comic book titles (published by Marvel and, most recently, Troma's own independent comic book imprint), and three sequels. The most recent film in the series is
Citizen Toxie: The Toxic Avenger Part IV
.
The success of
The Toxic Avenger
was followed by a string of commercial and artistic triumphs in a similar vein, blending fantasy, heavy action, comedy, and eroticism in a style that the Cinemateque Francais described as "Tromatic." These films, including the
Class of Nuke 'Em High
trilogy,
Sgt. Kabukiman NYPD
, and
Troma's War
, were often ignored or scorned by the intelligentsia of the time but spoke to an entire generation of young people who rejected the pandering, commercial films of the mid-to-late 80s. Some of these Troma fans went on to become filmmakers themselves, including Quentin Tarantino, Kevin Smith, Mike Judge, Peter Jackson, and Trey Parker. Thanks to these admirers, Kaufman has been asked to make cameo appearances in films like Trey Parker's
Orgazmo
and Richard Martini's
Cannes Man
.
Lately, Kaufman and the Troma Team have begun to win respect from even their harshest critics.
Tromeo and Juliet
became a surprise theatrical and critical hit, earning the grand prize at the Fanta Festival in Rome. Kaufman's opus,
Terror Firmer
, inspired by the book
All I Need to Know About Filmmaking I Learned From the Toxic Avenger
, played for six months in Los Angeles alone. In addition, Kaufman has been an honored guest at various international film festivals and Troma retrospectives around the world. The San Sebastian Film Festival, the British Film Institute, the Cinematheque Francaise, the American Cinemetheque, the Chicago International Film Festival, the UCLA Film Archives, the Tokyo Film Festival, and the Shanghai International Film Festival are just a few of the venues to have showered Kaufman with praise, lifetime achievement awards, and lots of free booze.
In January 2000, Kaufman founded the TromaDance Film Festival in Park City, Utah. Determined to give independent film back to the people, Kaufman established a festival where there is no entry fee to filmmakers to submit their films, nor is there any admission charged to audience members. The TromaDance Film Festival presents a broad spectrum of films and film styles, creating an opportunity for everyone to put their own personal vision on film and have it seen.
Kaufman is also a tireless innovator, constantly using new developments in technology to foster the growth of independent art. Troma has a dynamic web presence with Troma.com, Tromadance.com, Dogpile95.com, and the newest site, Toxicavenger.com. All three sites provide news and entertainment, as well as an outlet for Troma to sell videos, DVDs, clothing, Tromabilia, and other products from the Troma Universe directly to their fans. Troma has also been ahead of the curve in DVD production, releasing feature packed titles since 1997.
Kaufman has also earned the respect and trust of his peers in and out of the independent filmmaking community. He has served as Executive Vice Chairman of the Independent Film and Television Alliance (IFTA). Thanks to his vision of independent cinema's future on the Internet, Kaufman was asked to help create and currently chairs IFTA's New Technologies Opportunities Committee. He has also served on the Board of Trinity School and ECO, the environmental foundation.
Kaufman has just released a feature length documentary about the Cannes Film Festival, entitled
All the Love You Cannes: An Indie's Guide to the Cannes Film Festival
. His second book,
Make Your Own Damn Movie
, which is published by St. Martin's Press, is in its second printing and has inspired a series of successful Lloyd Kaufman taught filmmaking Master Classes at colleges and institutions across the country. He is co-author of the novel The Toxic Avenger, published in June 2006 by Thunder's Mouth Press.
Kaufman most recently went behind the camera again for a chicken-zombie filled satire about the fast-food industry called
Poultrygeist: Night of the Chicken Dead
, which premiered in theaters in 2007.
On a personal front, Lloyd Kaufman has three daughters: Lily Hayes, Lisbeth, and Charlotte. His beloved wife of 29 years, Patricia, is the New York State Film Commissioner and has served on Awards.